When you're looking for just the right buttons for your latest clothing project, as jewelry components or as trimmings for your scrapbooks, there's nothing like the DIY approach for that perfect finishing touch. Homemade buttons are easy and fun. Once you've made your first batch, you'll never want to use store-bought buttons again!
Home-Made Buttons from Rustic Wood
You can make wooden buttons very simply, either from a length of dowel or from a natural tree-branch. Using a branch will give you lots of interesting natural variation in the shape and color of your buttons, but you need to be quite choosy in selecting your material.
Choose a hardwood such as oak; softwoods are too fragile. Use the straightest branch you can find — this will give you the most even buttons. Only use seasoned wood that's had time to dry out; avoid wood that's too green. Check the branch for rot, and discard it if you find any. Bear in mind that your buttons will be the diameter of the branch, minus the bark.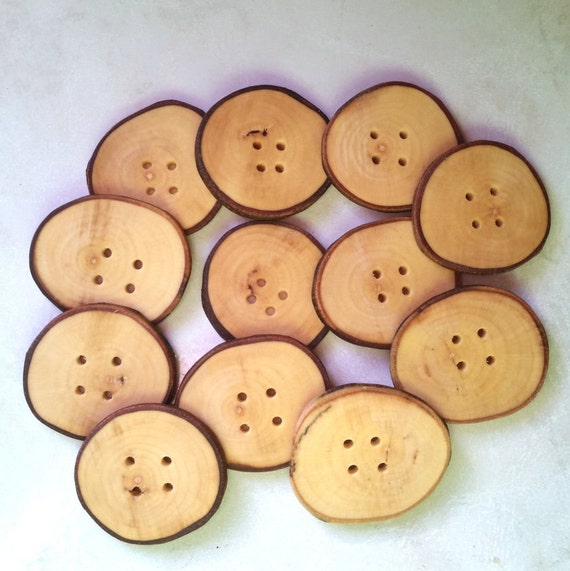 Saw the branch into thin slices using a fretsaw, hacksaw or other fine-toothed saw. Peel away the bark and pith so that only the wood remains, then drill the sewing holes. Sand the button with fine sandpaper. You can now simply oil the button with olive or linseed oil to protect it. You can stain the wood with light-fast pigments before oiling it. Alternatively, you can decorate these natural wooden buttons with any durable water-resistant paint, such as acrylics, and further protect this with a layer of suitable varnish.
Home-Made Buttons from Shrink Plastic
Shrink plastic is a special type of plastic that comes in thin sheets. When heated, items made from this plastic shrink and become thicker. Before heating, you can apply designs to the plastic; these will shrink along with the rest of the item. This makes it the ideal choice for finely detailed and very precisely made buttons.
You can cut the plastic with scissors; however, for greater precision, a punch is better for round buttons. Squares, rectangles and polygons can be cut with a guillotine. It's a good idea to make a paper template so that you can make all your buttons with the same dimensions. Remember that you'll need to cut shapes with around double the diameter that you want for your finished buttons.
Before you shrink the buttons, you can draw or paint on the plastic. Permanent pens such as Sharpies will give strong, vivid colors; colored pencils give a more subtle effect. You can also use spirit-based ink to create designs. The plastic comes in both clear and frosted versions; permanent markers work on both, but you'll need the frosted type if you wish to use colored pencils. Tracing the design from an original will give you more uniform buttons.
Another option is to use a stamp with spirit-based ink. You can stamp the plastic before shrinking it, or — with care, and a little luck — stamp the buttons while they're still soft. This will give you a textured effect.
Home-Made Buttons from Polymer Clay
Colorful polymer clay is a great material for buttons. It is easy to work with, handling just like regular modeling clay; once you're happy with what you've made, polymer clay can be hardened to make the piece permanent. Air-hardening clays are available, though most varieties are formulated to be heated in a domestic oven. When hardened, polymer clay buttons are durable and colorfast.
Polymer clay is a relatively new art medium consisting of particles of polyvinyl chloride (PVC) suspended in plasticizer. When fired in a home oven, the particles fuse solid which results in a hard, durable substance. The colors are vivid and the surface can be sanded to a smooth finish.
As well as shaping buttons from a single color, you can blend two or more shades for a marbled effect. You can also stamp your buttons with an ink stamp while the clay is still soft. This is a quick and nifty way to create a design with both color and texture. Make sure that you only use spirit-based ink on polymer clay.
A clay gun is very useful for making buttons. This is a gadget that allows you to extrude a length of clay with a uniform cross-section. You can use it to extrude clay with a variety of different cross-sections, from a simple circle to flowers and star shapes.
Here's a link to where you can get this gadget if you're interested.
Clay canes make ideal material for buttons. A polymer clay cane has a pattern all the way through it; by cutting slices, you can quickly make pretty, decorative buttons. You can buy canes ready to cut from many handicraft outlets, but learning to make your own canes is very rewarding.
For example, a daisy cane can be made by rolling out a cylinder of yellow clay for the center and six cylinders of contrasting colors for the petals. Arrange the cylinders in a bundle, with the yellow cylinder at the center; fill in any gaps with shade that will complement the other colors. Gently press them all together, then reduce the cane by turning it over and pressing it repeatedly along its length. Make sure the bundle retains its cylindrical shape by carefully turning it a little at a time and pressing evenly along the full length of the cane. It's best to use a flat object, like a board or a ruler, to keep the pressure even.
A checkered cane is even easier. Make two square prisms in different colors, then carefully press them together. Cut the resulting two-colored block in half. Reverse one half and place it on top of the other, so that you now have four squares of alternating colors. Press the blocks together on all four sides to make sure that the clay is fully fused. You can go on cutting, reversing and joining the cane until you're happy with the size and number of the squares. Try to keep the pressure even so that the squares don't distort.
When you have prepared your extruded clay or clay cane, you can cut off slices and punch sewing holes in them while it's still soft. Alternatively, you can fire the clay cane whole and saw off slices with a fine fretsaw, then make the sewing holes with a drill. Cutting the slices horizontally will give you buttons that are the same shape and diameter as your cane. By cutting at an angle, you can make oblong buttons. A rippled blade creates buttons with an interesting wavy texture.
With these techniques and a little practice, you'll never be short of the perfect button again.
Here are some of the materials you'll need for these projects: CLICK ON THE PICTURES BELOW, IT WILL TAKE YOU TO THE PRODUCTS.
---
If You'd Like To Support Our Site
If you want to help us continue to bring you a wide selection of
free sewing patterns
and projects, please consider buying us a coffee.  We'd really, really appreciate it.