Lace was once reserved for only the nobility. It was expensive and scarce. Fortunately, we live in an age of affordable lace fabrics with wide availability and tremendous variety. Here is an introduction to lovely lace fabrics.
Lace Fabrics
Bridal shops and fabric stores use special terms to describe the different lace fabrics. Alencon lace is named after a town in Normandy, France has motifs outlined by a heavy white cord. It is widely used for wedding gowns. Chantilly lace is more delicate in appearance, while Cluny lace is much heavier than either Alencon or Chantilly. Lace fabrics may also be beaded or embroidered for extra sparkle or color. Point d'esprit or dotted Swiss are sheer woven fabrics with a pattern of allover dots.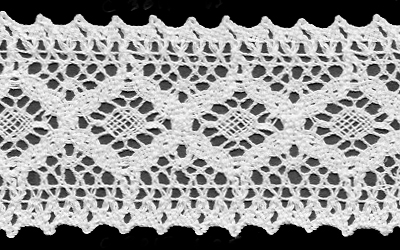 Sewing lace requires some careful cutting in order to place large motifs symmetrically. Many lace fabrics have a scalloped border which can be used as a finished hem on skirts and sleeves. Because most lace does not ravel, individual designs may be cut from larger pieces and used to trim veils or cover seams. Double galloon lace has two scalloped edges, making it especially useful for creating borders.
Heirloom Sewing Lace
White cotton fabric may be embroidered around small holes to create eyelet fabric, a type of lace. When strips of narrow cotton trims are joined to create a larger piece of fabric, the technique is called heirloom sewing or French hand sewing (although it is often done by machine now.) Trims with two straight edges are called insertions, as they are made to be sandwiched between other fabrics or trims. Trims with one straight edge and one shaped edge are called edgings because the shaped edge can be left plain as a hemline.
Heirloom sewing is especially popular for christening gowns and other special garments for babies and young children. Nightgowns and other trousseau items also can be lovely in heirloom lace.
Knitted Lace
Very fine yarn and needles of small diameter are used to create knitted lace. The knitter follows a chart to make patterns of holes between areas of plain knitting. Shawls and scarves are popular projects for skilled lace knitters. Master knitters have knit entire dresses or wedding veils. Laceweight wool is the favored fiber for knitting.
Crocheted Lace
Fine steel hooks and crochet cotton are used to make lace trims by hand. Such lace may be found on heirloom pillowcases and handkerchiefs. Irish crochet is a technique in which individual floral motifs are joined together with a net-like background–all created with just a hook and thread.
Novelty Lace
Lace fabrics and trims now go far beyond the traditional white or ecru. Lace comes in any fashion color. Lace may include metallic threads or multiple colors. Lace for sewing underwear and lingerie with Lycra fibers for stretch may adorn exercise leggings as well as underwear! Fashion designers now use lace in untraditional applications and combinations. Lace looks good on almost anything.
Care of Lace Fabrics
Check labels on all lace garments to be sure you clean them properly. Home dressmakers should be sure to get care information from the end of the bolt for any fabrics purchased. Hand knits or crocheted items can often be hand washed, then laid flat to dry after being shaped properly again. For wedding gowns, look for a cleaner with special expertise in bridal fabric care.
Enjoy using and wearing lace every day or for special occasions. Don't be afraid to try making your own lace items, too.
If you're interested in more sewing projects using lace fabrics, please let me know in the comments below and I'll put that on the list!